Manchester Morris and clogs
Initially, Manchester Morris only danced the Cotswold morris from Oxfordshire and the midlands. In the 1950's we revived several of the local dances and also started to wear clogs for these dances.
Notable events in the 1950's
Nov 1952
Danced the revived Godley Hill dance at the EFDSS National Members' Evening at Cecil Sharp House in London
8th May 1953
First recorded morris tour organised by MM, in mid-Cheshire (with Manley MM)
Jan 1954
Danced the Godley Hill dance at the EFDSS Festival, Royal Albert Hall
11 Sept 1954
Tour of Hyde and area, when MM danced the Godley Hill dance at Godley Hill
Summer 1955
Danced the revived Mossley dance
3 Sept 1955
Danced in clogs for the first time, dancing the Mossley dance at Mossley
(during our second tour of East Manchester)
16/18 Sept 1955
Manchester Ring Meeting
Sept 1956
a report of our third tour of East Manchester was given in the local press
by 1957
Wide, Lancashire style sashes replace baldricks, and then by 1961 there is braid on our breeches.
By 1962 the smaller Lancashire Bell Pads (worn at the side of the knee) have replaced Cotswold bell pads when dancing the NW dances
Extract from the 1955 Bagman's Report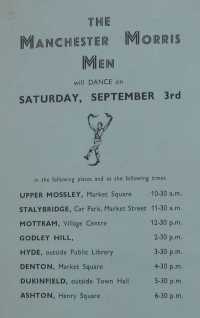 We began the main summer activities with our customary joint tour with the Manley Men on Saturday 14th May in mid-Cheshire. ... ... ...... ...
After the Midsummer break we came back refreshed for the tour on 3rd September in the Hyde, Mossley, Stalybridge, Ashton area. We had been dancing the Mossley Morris during the summer but now we were provided with clogs for the first time and this made a big difference. We gave eight shows during the day, starting at Upper Mossley to a good crowd and finishing at Ashton to the biggest of the day. The Holy Name Scouts' Sword Team joined as after lunch and provided a welcome variety to the displays of Morris. This is by far the best tour of the summer in terms of crowd, weather, enjoyment and collections and it put us in good fettle for the Ring Meeting a fortnight later. We get good newspaper publicity on this tour and crowds are very responsive to the Morris, particularly the Lancashire variety which is still a living memory to many in this area. This is an industrial region of chimneys and cotton mills, and the settings are not of the village green type, but it is genuine Morris territory.
The Manchester men acted as host to the Morris Ring for the weekend 16th/ 18th September; the weather behaved quite sensibly for these parts, the arrangements went more smoothly than might have been expected, the meeting was very well supported by the Northern clubs and others from further afield. The civic authorities gave us a warm welcome and the public responded general generously, so that everyone appeared to have quite a good time. The wide variety of Morris and Sword dance at this meeting contributed not a little to the success of the weekend. Roy Whitfield (Bagman)
MM in city centre (M/cr Ring Meeting, Sep 1955)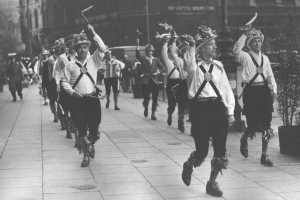 MM at Mossley (Sep 1956)