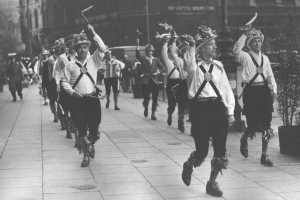 MM dancing the Mossley dance, at the 1955 Manchester Ring Meeting
Club History
Manchester Morris have their origins in the local EFDS (English Folk Dance Society) men's morris classes of the 1920s. By early 1930, a dedicated team of experienced dancers was formed, who gave displays not only in Manchester, but also throughout North-west England.
In February 1936 the team joined the recently formed Morris Ring, and at this time, still danced the Cotswold Morris as taught by the EFDS. Shortly afterwards the team became known as the Manchester Morris Men. In 2019 we followed the lead of the Morris Ring and a number of its member teams in deciding to admit women dancers; consequently we changed our name to the Manchester Morris. In 2020, we celebrate our 90th anniversary.
Details from those early years, from 1920 to 1949, have been collated in a booklet, which can be viewed (as a pdf) using the link on the left.
In the early 1950's, further research of the local dances took place and at the same time, perhaps linked, the club started to organise its own tours of the local towns. By the end of the 1950s, the team had performed abroad as well as at many events in the UK.
Our earliest scrapbook dates from 1951 and extracts from that scrapbook are included in this History section, along with full reports on each of the ring Meetings we have hosted in Manchester. Also included are lists of past and present officers of the club
Last Modified 30 July 2011