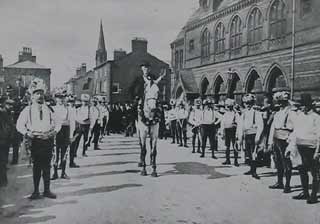 Introduction to the Archives of the Manchester Morris
The information stored in the MM archives is the result of many years of research by past and present members, primarily into North-West dances. It has been gathered together with the co-operation of many individuals and other morris sides.
Information on 5 dances (Aston-under-Lyne, Glossop, Godley Hill, Millbrook and Mossley) was published in booklet form in the early 1990's, and copies are held in the Vaughan Williams Library, at the English Folk Dance and Song Society, Cecil Sharp House, London and in the Local Studies Unit at Ashton-under-Lyne Library, Greater Manchester.
As an indication of the type of information in the archive, extracts from the research on the Millbrook Dance are available using the links on the left.
And details of the Mossley dance (which were among the earliest pages available on this web-site) are available using the link on the left.
Please note that the details for Mossley will open in a new window.
A list of the towns and villages covered by the archives is also given.
And new for 2010, most of the photographs in the Archive of North-west morris teams in existence before the First World War are also available.
NOTE. Permission from the original contributors has been given for these contributions to be viewed and quoted, but they should not be published or used for commercial gain.
May 2013 -- To help those researching NW Morris, a separate site has been setup giving links to all known websites that have photos, and videos, of pre WWII morris teams in the Northwest.
It can be found at http://northwest-morris.weebly.com/