Malta, 2003
Opportunities to dance outside of the UK are always a delight to receive, and invariably turn out to be tremendous occasions. Those dancers who participate, apart from enjoying the opportunity to perform for an enthusiastic foreign audience, also collect long lasting memories and some excellent materials for the club archive/scrapbook. Manchester Morris Men have found this to be true from previous dancing excursions enjoyed in Sweden, France, Belgium and Germany and now, in October last year, Malta. Invitations to some of these events came from local organisers, whilst others were planned by MMM 'country' members working in some highly attractive European cities. Our trip to Malta in October fell into both categories.
In 2003, one of our club members was resident in Malta assisting the Maltese Government ready themselves for entry into the EU. The Maltese have a great affection for the English and so it wasn't too long before George was proposing that the club paid him a visit.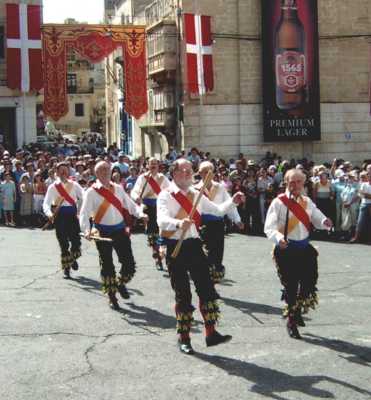 After choosing the weekend of 4/5th October 2003 for the tour, an unexpected bonus was discovered: that weekend was also the date of the Birgu Festival, a spectacular biennial festival celebrating Malta's oldest maritime city of Birgu, or Vittoriosa as it has been known since successfully withstanding the Great Siege of 1565. On realizing this, George made contact with the Festival organisers and 'offered our services' – which were warmly accepted. Teams of folk dancers from Portugal and Italy were already confirmed performers, and so the organisers quickly changed their promotional materials, adding Manchester Morris Men to their festival web site.
Leaving a gloomy Manchester on Friday 3 October, we arrived three hours later in Malta in a temperature over 30ºC ! "This is going to be a warm one!" was the general forecast for the weekend, and later events, and humidity, confirmed this to be an understatement. Our accommodation was with George, in his rented villa, that proved to be a wonderfully spacious building, easily coping with the 10 of us making the trip. As an added bonus, it was located just across the road from the 'Couvre Porte' one of the main gateway entrances into Birgu.
Friday afternoon was spent acclimatising and looking around Birgu, before our evening visit to the wine cellars of Marsovin – one of Malta's leading wine producers – for a tasting of around a dozen of their wines. Very enjoyable!
Saturday morning, after a warm up session, saw our first performance as part of the festival. This took place in Victory Square in Birgu where, in temperatures again in the 30's, we performed both Cotswold and North West processional dances, sharing the occasion with both the Portuguese and Italian country dance teams. It was astounding how many English people in the audience came across saying how pleased they were to see us and to thank us for our dancing. Many were on holiday, others resident on the Island.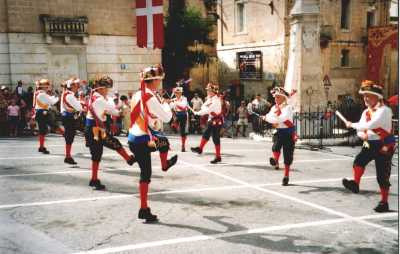 After the show and a boat trip across the Grand Harbour to Valetta in two of the colourful traditional 'luzzu', a leisurely lunch was followed by dancing for ourselves in the Upper Barrakka Gardens and outside the Cathedral. After a much needed beer break, it was time for a relaxing swim and free time. Dinner on Saturday evening was in Birgu at an open-air restaurant in a medieval square next to the 'Couvre Porte' where, after a good meal, we danced for the other diners, before involving them in some general dancing and singing. What an unexpected delight it was to be eating and dancing outside on an October evening!
Sunday had one of the highlights of the festival - the Grand Master's pageant entitled 'The Joyous Celebrations of the Victory of the Great Siege 1565'. After the pageant we danced Cotswold and North West processional in Victory Square – once again at lunchtime in the heat! Sunday afternoon was free for men to collect their strength before the Sunday evening onslaught at the Maltese 'Octoberfest', organised by Lowenbrau at their brewery in Malta. This was a totally packed event with sideshows, attractions and stages for concerts, all set out in the grounds of the brewery. We danced in amongst the crowds and again were surrounded by English speaking folks wanting to chat – for which we were grateful, as the evening was remarkably warm and humid! At the end of a very warm, humid and alcoholic evening we returned, dripping wet, to George's.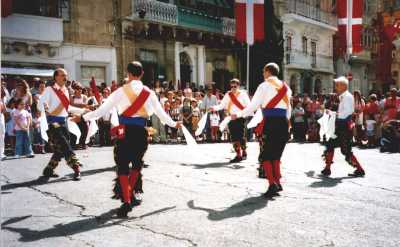 On Monday, a non-dancing day, the organisers of the Birgu Festival had very kindly arranged and paid for us to be given a guided tour of the old Maltese Capital of Mdina, and neighbouring Rabat. Everyone thoroughly enjoyed the tour and we returned in good time to make our way to the airport for a late afternoon departure for Manchester.
A thoroughly enjoyable four days was had by all with good dancing and appreciative crowds. It was hot - but it made a change from the wet of Manchester!
David Doolin
Manchester Morris Men
February 2004