A German extravangza ! (or "Two trips to Germany in one summer") 2005
It's not very often that Manchester Morris Men find themselves at a loose end during the summer; in fact, on reflection; it's quite a rarity. Planning a season's dance programme isn't so big a challenge and we're fairly adept at filling in the gaps.
Early in 2005 we were busy making plans for a trip to the Czech Republic, having been invited to dance at a "Best of British Festival" at Libochovice Castle, near Lovosice, about 60km north of Prague. Everything seemed to be proceeding satisfactorily and everyone was looking forward to another overseas trip (the previous trip being Malta in 2003) when suddenly the line went dead! No further communication whatsoever. What had happened – had the festival been cancelled? – had we said something to upset the organizers? Try as we might – and we really did try – we couldn't re-establish any sort of contact. The consequence was we had something of a major hole in our plans for Summer 2005.
Berlin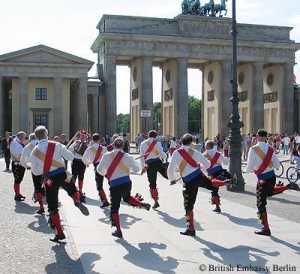 Like many morris teams, we have a number of 'country' members, in far flung places ; and so it was with a looming hole to fill, and a travel lust to satisfy, we contacted our resident member in Berlin, an Englishman by the way. Joy of joy, "Why don't you come and stay with us?" was the reply. "I'll put a programme together and ask a few people what permissions we'd need to dance in the City and all will be well!" And so it was – only double! Because in the process of seeking permissions to dance in Berlin during May, he unearthed an opportunity, via the British Embassy, to dance in Leipzig, during September, at an annual civic festival organized by that City.
So it was on Thursday 27th May that 13 of us 'Easyjetted' into Berlin from Liverpool, with another country member joining the group on Friday, direct from Birmingham. What followed was a weekend of dancing, singing, eating, and drinking [some of us to a little excess!], at some exciting venues in the magnificent capital city of Germany. Our accommodation for the weekend was shared between Frank (our Berlin member), and a number of family and friends living locally.
Following a Friday morning of sight seeing, the dancing (Cotswold and Lancashire) started after lunch at the Hackescher Markt in the old Eastern side of the city, then an excellent spot by the riverside at Nikolai Viertel (Spreeufer) ending with a full display at the historic Brandenburg Gate. That evening a wonderful dinner and German style bowling competition, both held in a friendly local restaurant (it had its own bowling alley!), finished off what had been a memorable day.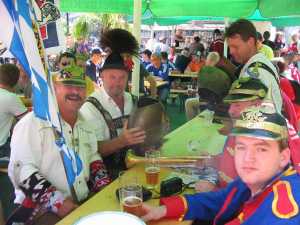 Saturday 28th dawned a 'roasting hot' day again and so we started out on a dance programme that took in Wilmersdorfer Str., onto Wittemberg Platz, and ending on the Kurfürstendamm (at Joachimstaler Str.), a venue shared with the football fans in Berlin for the German Cup Final. On the way back home the more hardy of us (or should that be foolish?) called in to sample the delights of a wine festival being held in one of the local parks. A very pleasant hour or so was spent, in the cool of the park, sampling the wines. Later that evening a splendid feast was arranged that was graciously attended by all our hosts after which, at midnight-ish, most of the men contentedly retired. However, still with a little life in the batteries, the 'hard core' made the short journey to a local hostelry for a final nightcap. Stamina was rewarded when a lady who just happened to be in the bar and, it turned out, was a professional singing coach with a special interest in folksong, joined them. There followed a long night of singing and those there will remember for a very long time. Sunday morning was spent in general 'recovery', before an afternoon flight back to the UK.
Leipzig
The September event in Leipzig was of an altogether different kind, but unquestionably enjoyed by all the men. The arrangements for the visit were made by the British Embassy in Berlin, for Leipzig's 2005 Herbstauftakt (Autumn festival) which this year had the theme 'Discover Britain'. To showcase different aspects of 'Britishness' the Embassy arranged for, amongst others, the Metronomes Steelband [from London], a Beatles tribute band, author David Henry Wilson, a Scottish Pipe Band (which surprisingly came from Berlin) and, to show folklore and tradition, Manchester Morris Men, to appear at the festival. Arrangements for getting us to Leipzig, accommodating us and moving us to and from the festival were all arranged by the Embassy staff, and what a job they did! From meeting us on arrival at the airport door in Berlin, to getting us back there the day after the festival, everything really was 'First Class' all the way. Frank joined us as we arrived in Berlin making our numbers 13 for the weekend.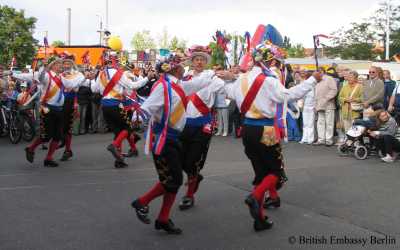 The festival day was Saturday, during which we danced both Lancashire and Cotswold to fascinated and appreciative audiences at various venues on the festival site. In between spots we enjoyed all the other festival events, making numerous friends and answering all sorts of questions from interested festival visitors. In the evening there was a dinner for all the Embassy's festival performers at which our musicians played for country dancing, greatly enjoyed by all those taking part.
A Sunday morning journey back to Berlin and afternoon flight back to the UK saw us all safely back in Manchester by 4:30pm.
The problem we have now is planning a 2006 programme that could possibly equal 2005. Maybe we need to wait for a few holes to fill!
(Dancing photographs courtesy of, and copyright of the British Embassy Berlin)
David Doolin
Manchester Morris Men
November 2005